For me, Showtime's newest series "Homeland", which chronicles a CIA agent's persuit for evidence that a returning veteran is part of an Islamic terrorist plot to attack to the United States, had Predictive Programming written all over it. Firstly, this show is coming to air at a time when the  Global War on Terror is losing it's sway in the minds of American people. At the same time, not only is disapproval of U.S. Military action at an all time high, but the people are beginning to express their dissent and take to the streets in protest of the policies of do-nothing politicians as well as their complicity in the criminal transfer of wealth taking place within the financial institutions on Wall St..
As these protest reach fever pitch, around the world and domestically, you are beginning to see more and more news articles and programs focused on domestic terrorism, painting the narrative that political dissent in this country can lead to dangerous extremism. Homeland's latest episode is yet another attempt to drive this point home.
The story of Homeland is an interesting one. CIA agent Carrie Matheson (played by Claire Danes) is given information by a credible sounce in the Middle East that an American POW has been turned by Islamic extremist and has been made to play an instrumental role in a plot for an attack within the United States. Meanwhile, Marine Sargeant Nicholas Brody (played by Damien Lewis) is discovered during a raid in Afghanistan after being tortured at the hands of Al Qaeda for 8 years. Upon news of his return to the U.S., agent Matheson, both obessive and mentally unstable from the guilt she feels after having missed intelligence that led to the 9/11 attacks ten years earlier, is insistant to her superiors that Sargeant Brody be monitored for potentional terrorist activities. When her concerns are dismissed, she begins rogue surveilance of Sargeant Brody, wiring his house with cameras and tracking his wherabouts, all without permission or warrants to do so, with that hope that she can uncover a link between the this new found war hero and a terrorist conspiracy.
The threat of returning veterans for potential terrorist activity sewn into the Homeland plot is a familiar one. This is one of the potential threats cited in the 2009 MIAC Report on the Modern Militia Movment in the United States along with Ron Paul supporters and even people who have seen movies like Zeitgeist or Aaron Russo's America: Freedom To Fascism. Disgruntled returned veterans were also one of the targets for a training excercise, teaching the Boy Scouts of America to take on potential terrorist.
In Homeland's latest epsiode, agent Matheson continues to investigate Sargeant Brody independently while being assigned to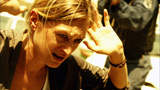 track another potential terrorist, a college professor of Arab descent. In their persuit to find the professor and bring him in for interrogation, the investigation is flipped on its head when it is discovered that the professor is accompanied by a young American Causcasian woman, who turns out to be the one linked to terrorist activities. What I found interesting about this plot twist is how they introduced this concept. In a scene that takes place in a CIA briefing room, agent Matheson is detailing the profile of this women. The first thing they say about her is that the picture they have of the woman is from an arrest during a G8 protest.
Though very subtle, the implication being made by this scene is that protestors have the potential to become dangerous terrorist. This is similar to a scene in the AMC series Breaking Bad, where a character is talking about Hitler and Terrorism, just as a Ron Paul logo appears on the screen. Further, the idea of young American White women working with terrorist organizations send echoes of the 2010 Jihad Jane plot to kill the Swedish Cartoonist responsible for the unflattering pictures of the Islamic Prophet Muhammad.
This episode of Homeland, and the show in general is yet another example of the mainstream media's on going campaign to criminilize the American people by demonizing protestors, painting the narrative that everyday Americans who have grievances with their government are potential terrorist threats. Depicting young American White women and men as terrorist sympathizers gives the threat of terror a new face in the minds of the hypnotized and brain washed citizenry. While paying lip service to the growth of the Occupy movement to gain political points, the liberal media has been preparing the rest of America via news articles and TV shows like these to develop both an apathy and garner support for policies that would have American citizens arrested, detained and even killed for activities that are considered anti-government. Perhaps by continuing to watch Homeland, we can get a deeper glimpse into the elites plans for us.
-UnLearn